Bismarck State College is doing college RIGHT
Bismarck State College (BSC) is breaking the bounds of a traditional college experience while offering a world-class polytechnic education on an active college campus in North Dakota's state capital. As part of the polytechnic mission, the college works closely with industry leaders and partners to develop new and enhance current programs, with career-focused learning to prepare students for the workforce.
Education at a polytechnic institution means more hands-on, applicable learning experiences that are grounded with a solid foundation of STEAM (science, technology, engineering, arts and mathematics). Every day brings new opportunities for students to put the skills learned in the classroom into action with labs, internships and cooperative community projects.
Flexible Career Pathways
At BSC, students receive hands-on training through flexible career pathways. With certificates, two- and four- year degree programs, students can upskill in their current careers, get into the workforce sooner or further their studies. BSC boasts more than 100 career pathways in fields such as communications, Cybersecurity, energy, manufacturing, health sciences, finance, agriculture and more.
Students can tailor these flexible pathways to meet their goals by stacking certificates they find interesting and combining them with general education courses. The student can also enroll in a traditional 2-year associate degree. Both options allow the student to continue on to a 4-year degree at BSC or a transfer university.
Polytechnic Education for Less
BSC's hands-on, polytechnic education and flexible pathways come with an affordable and competitive price tag. With tuition rates at about $5 thousand per semester, in-state tuition reciprocity, close to $1 million in scholarship and generous financial aid packages, students can achieve their degrees with little to no debt.
BSC also offers payment plans, low-cost housing and meal options to help students achieve their educational goals at a quality institution for less than larger universities.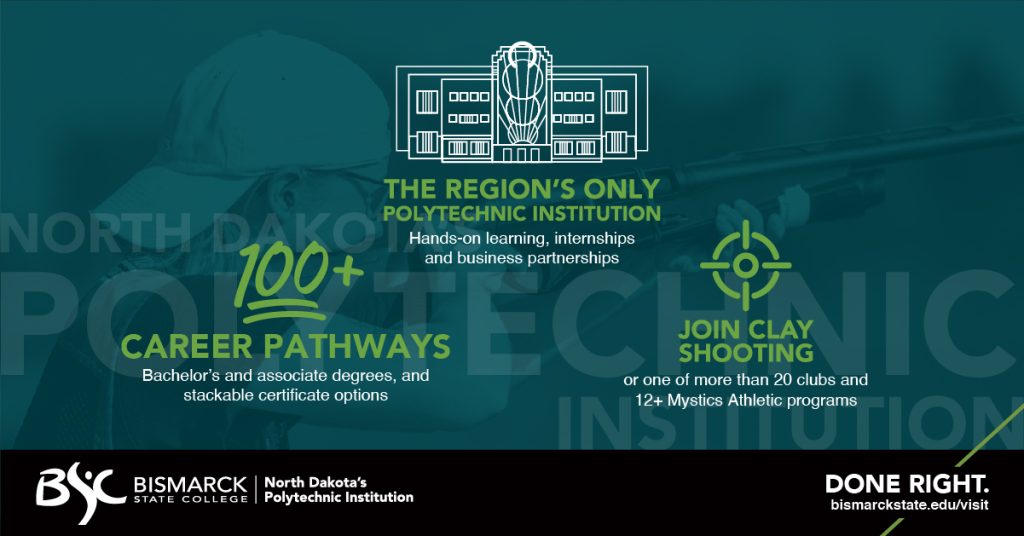 Beyond the Classroom
College life at BSC doesn't stop in the classroom. BSC boasts more than 20 clubs and organizations and has more than a dozen intercollegiate athletic teams, including eSports and clay shooting.
The BSC campus is a close-knit community that develops and fosters strong connections between students, faculty and staff. With approximately 3,800 students and 100 programs, BSC is the third largest institution in the North Dakota University System. However, with a 14:1 student-faculty ratio and small class sizes, professors really get to know their students on an individualized level and students receive a personalized education.
Beyond campus, students enjoy all the fantastic activities and experiences the Bismarck-Mandan communities have to offer. Students can spend a day on a paddle board at Harmon Lake, enjoy a kayaking trip down the Mighty Missouri, join the fans in the stands at a Larks baseball game, shop at exclusive downtown boutiques or explore the earth lodges on a hike through Ft. Abraham Lincoln State Park.
At North Dakota's Polytechnic Institution, you will obtain real skills for real life and make the connections you need to build a successful career. Bismarck State College is college DONE RIGHT!