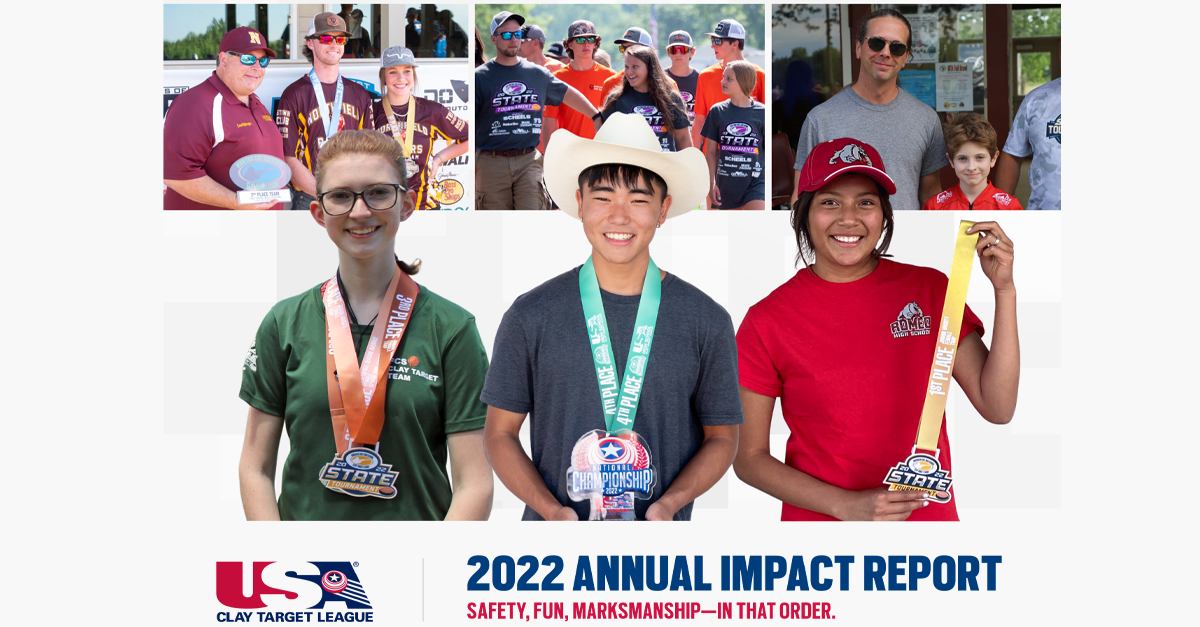 Eagan, Minnesota – The USA Clay Target League is proud to formally release its 2022 Annual Impact Report. The report details the League's ongoing efforts to provide safe and fun clay target shooting to teams and athletes as a school-sponsored activity.
"We are thrilled to announce the League continues to reach new heights." said John Nelson, President of the USA Clay Target League. "The record-setting participation this spring and fall is the result of the incredible efforts of coaches and families to overcome the ongoing ammunition shortages nationwide."
With over 44,000 participating athletes in 2022, the 501(c3) non-profit USA Clay Target League is the largest youth clay target shooting sport program in the nation. The League offers trap, skeet, sporting clays, and 5-stand leagues to secondary and postsecondary schools across the country.
Highlights of the 2022 Annual Impact Report include:
260 new teams added since 2021
Record 44,900 registered student athletes
More than 12,000 new athletes in 2022
Over $4.5M conservation dollars raised by League athletes through Pittman-Robertson excise taxes
"Coaches, parents, schools, and shooting ranges what make participation in the League a safe and fun activity for student athletes across the nation." Nelson said. "Thanks to them students are learning skills and forging friendships that will extend far beyond the shooting range."

The USACTL 2022 Annual Impact Report can be viewed online by clicking this link.
About the USA Clay Target League
The League is the only 100% school-approved clay target shooting sport program in America and the League's co-ed and adaptive nature are key attractions to schools nationwide. The League is fully Title IX compliant with both male and female athletes competing on the same team. Additionally, it's an 'adaptive' sport, which allows students with physical disabilities to take part.
The League's priorities are safety, fun, and marksmanship – in that order.
The League is the safest sport in school, with not one reported injury since the inception of the League in 2001. Each athlete must complete firearm safety certification before participation.

Visit http://usaclaytarget.com/ for more information.