Hillsdale College is a private Christian liberal arts college located in south-central Michigan. We offer one of the highest quality and most rigorous educations in the country even though we accept no funding from state or federal governments. As defenders of the US Constitution and the Second Amendment, it also makes sense that we have deep involvement in the shooting sports.
Hillsdale built, owns, and operates the John A. Halter Shooting Sports Education Center located about 5 miles from campus. The 113-acre facility offers trap, skeet, sporting clays, and the Olympic disciplines in addition to rifle, pistol, and archery opportunities. Hillsdale and the Halter Center are the official home of the USA Shooting National Team, supporting the US in its Olympic shooting endeavors. The Halter Center also offers:
– USA Shooting National Championships and Junior Olympics
– Junior Olympic Development camps and other training opportunities
– Classes and discounted targets for student body
– Open shooting and various events for members of the public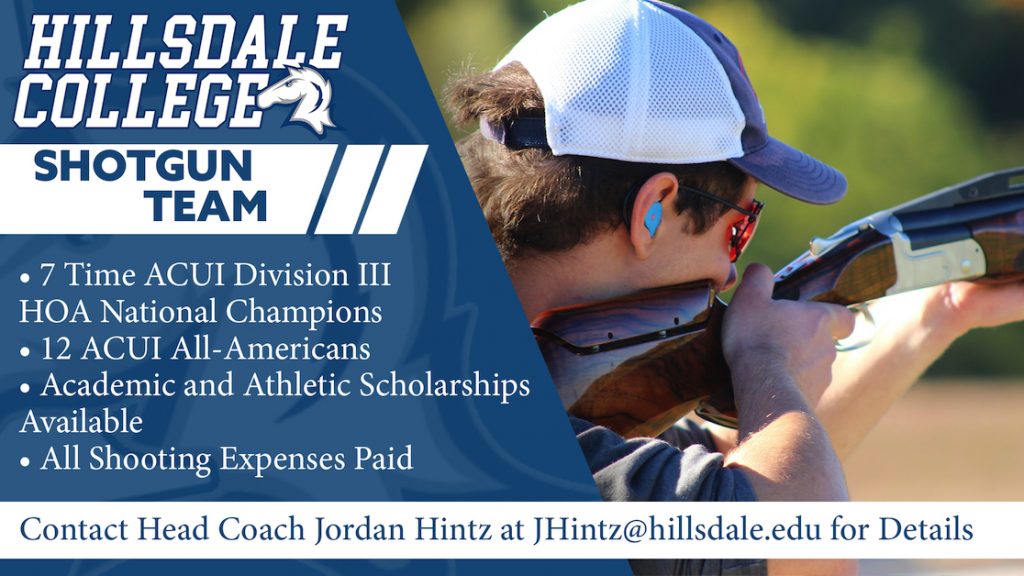 Hillsdale College's varsity Shotgun Team was founded in 2010 and since then has grown into one of the most successful programs in the nation:
– Fully-funded team covers all practice and competition expenses
– Athletic scholarships offered in addition to academic scholarships and more
– 7-time ACUI DIII Team HOA National Champions
– 13 individual ACUI All-American honors
– 3 current USA Shooting team members
Hillsdale offers the best of both world in education and competitive clay target shooting. If you are interested in continuing your competitive clay target shooting career in college, reach out to Hillsdale College Shotgun Team head coach Jordan Hintz at jhintz@hillsdale.edu.