Outdoor News is a source for outdoor enthusiasts who have an interest in an active outdoor lifestyle. Because we cover the local hunting and fishing scene like no other media source available, hunters, anglers, trappers, and shooting sport enthusiasts trust Outdoor News. In the states of Minnesota, Wisconsin, Michigan, Illinois, Ohio, Pennsylvania, and New York, we provide the most up-to-date local outdoor information available through digital and print subscriptions, newsletters, and interactive social media.
Outdoor News
Benefits with your subscription to Outdoor News include:
• Proven techniques for anglers to learn how to set up their line, what type of bait to use, comparisons of the hot new lures, and detailed maps of waterways.
• Strategies to help you prepare for the hunting season from experts in the field.
• Reviews of products such as archery, fishing, and hunting gear that help you make decisions.
• Dozens and dozens of photos sent in by readers like you.
• Each Outdoor News local edition has the state's best, most highly detailed, Fishing and Hunting Report available.
Here is an exclusive offer for athletes of the USA Clay Target League: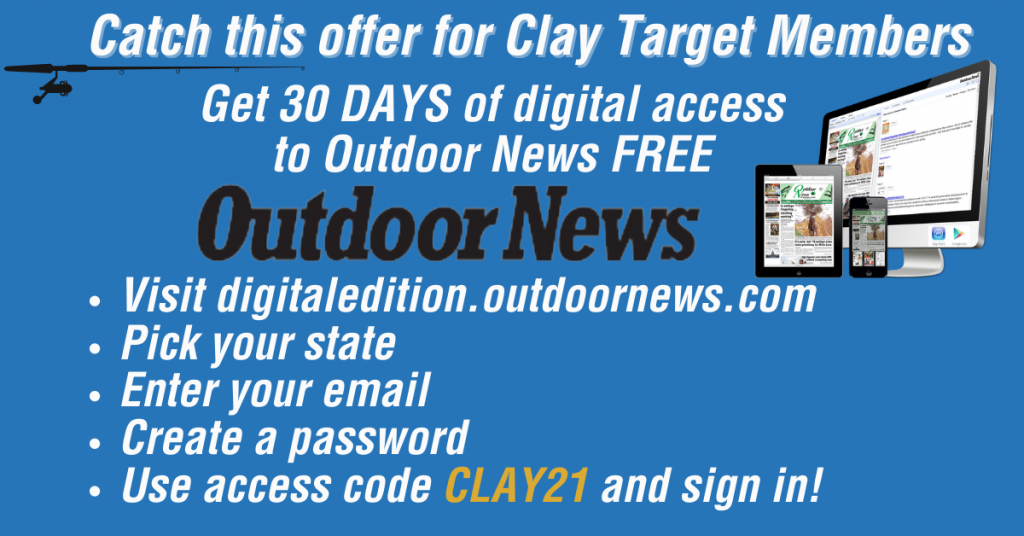 Enjoy 30 days on-us. You'll have access to the complete digital replica edition of one of our seven state-specific editions to enjoy on your mobile phone, tablet, or desktop.

Download the free Outdoor News APP from the Apple Store or Google Play, and in addition to accessing the current issue, you can browse archives to search your favorite topics.
Parents and Coaches: Looking for a way to earn some money for your team? Contact evy@outdoornews.com for details on our program that gives $5 from every subscription back to your team.