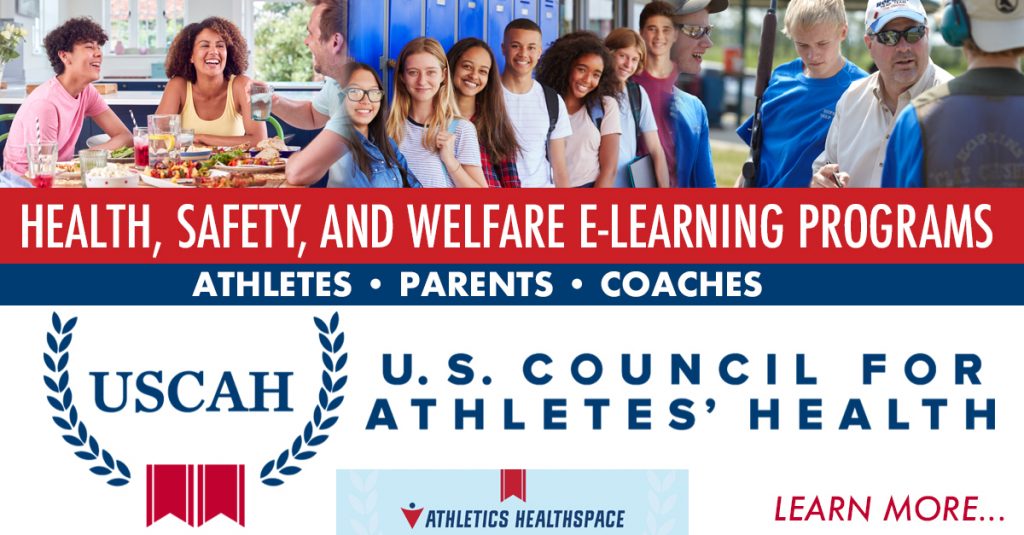 Creating a culture that prioritizes athlete health and safety is the responsibility of everyone involved in athletics, not just healthcare personnel. Athletes, coaches, parents, administrators, and officials should all have at least a baseline understanding of health, safety, and welfare issues that are common in youth sports.
The U.S. Council for Athletes' Health (USCAH) has created an e-learning platform – ATHLETICS HEALTHSPACE – to help meet this growing need for education. Athletics Healthspace houses a growing library of more than 170 courses that can be customized by audience and completed via the website or mobile app.
Powered by Moodle USA, AH currently has more than 23,000 registered users utilizing health and safety programs, policy and emergency action plan (EAP) development tools, assessments, waivers, and other collaborative functions. These course packages are designed to provide comprehensive overviews of the topics most relevant to those involved in youth sports.
The majority of all catastrophic injuries are preventable with the right education and emergency preparation. You have the opportunity to take the first step in protecting your children, and making sure your organization is accountable for creating a healthy and safe environment for your athletes.
USCAH partners with 200+ universities, high schools, campus recreation, adult club, and youth sports programs of all sizes to optimize and prioritize the health, safety, and wellbeing of athletes. With over 300 years of experience in athletic healthcare, our team of experts have designed the following programs with you in mind:
• Athlete Health, Safety, and Wellness for Athletes, Parents, and Coaches
• Diversity, Equity, and Inclusion in Sports
• Comprehensive Mental Health
• Youth Athlete Wellness
• Managing Injuries and Other Common Conditions in Sports
TO ACCESS PROGRAMS DESIGNED FOR YOU
Go to: www.athleticshealthspace.com
Select: "Create new account with Program Code"
Accept copyright policy.
Enter your new account information and the following:
Program Code: YSPORT
Role 1: Select "USA Clay Target"
Role 2: Select your role

Check your email: Follow the prompts to confirm your account from your email. In the confirmation email, click on the link to login. Once in Athletics Healthspace, you will find the above featured programs on your dashboard.

Select your desired programs, add to your cart, and checkout!