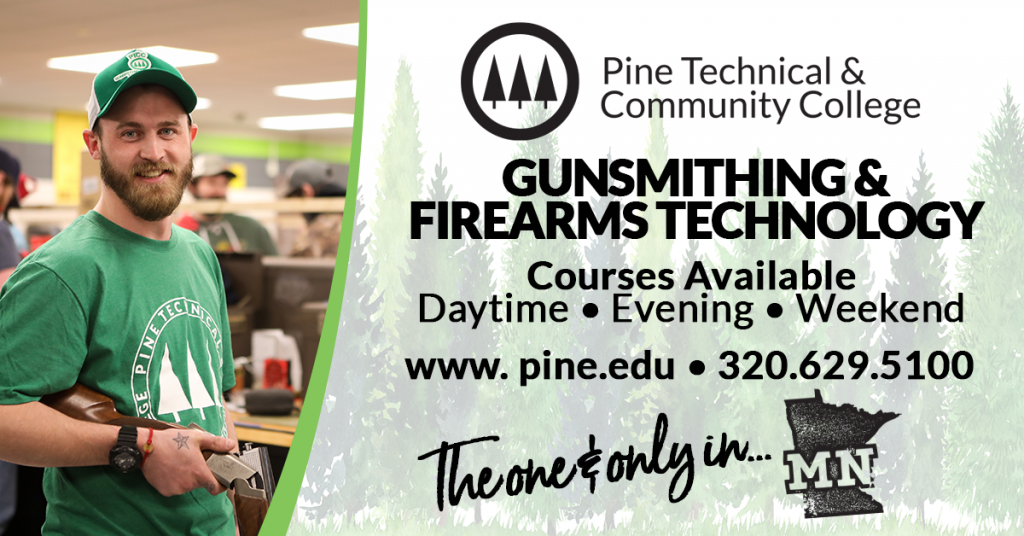 Pine Technical and Community College (PTCC) is proud to offer the only Gunsmithing program in the state of Minnesota!

Gunsmithing and Firearms Technology at PTCC is a 2-year diploma or Associate of Applied Science (A.A.S.) degree program. The first year, diploma, consists of studying the fundamentals of function, disassembly, reassembly, maintenance and repair of different designs of firearms and the accessories that apply to them. First year students also learn machining and CAD design.
These fundamentals are expanded upon in the A.A.S. program in the second year, this includes blueprinting and re-barreling rifle actions, making 1- and 2-piece gunstocks, performance enhancing shotguns, and learning the art of firearm finishes including bluing, spray-on finishes, parkerizing, hydro-dipping and others.
With an estimated 40 million firearms purchased in 2020, gunsmiths are in high demand. PTCC prides their program on teaching traditional as well as modern gunsmith techniques, respecting the history of gunsmithing and focusing on advanced techniques and processes for the future.
Students are provided a high-quality education with applicable skills that can be transferred to employment in industry as well as operation of a successful small business. Since its inception in 1980, the PTCC Gunsmithing and Firearms Program has had a 90% or higher job placement rate.
PTCC also holds articulation with Bemidji State University which enables students to transfer their Gunsmithing Technology AAS directly towards a Bachelor of Arts degree in Applied Engineering or Applied Management.
We aim for success with educating our students, and always hit the target.