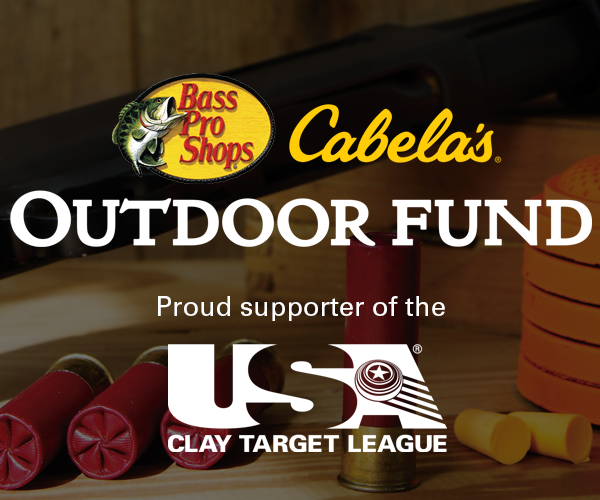 Springfield, Missouri – The Bass Pro Shops and Cabela's Outdoor Fund is pleased to award the USA Clay Target League a grant of fifty thousand dollars. The Outdoor Fund is supported by the generosity of sportsmen and women who by round-up for conservation when shopping with Bass Pro Shops and Cabela's.
"Connecting new audiences to the outdoors is a key mission of the Outdoor Fund," said Bob Ziehmer, Senior Director of Conservation for Bass Pro Shops and Cabela's. "The USA Clay Target League introduces America's young men and women to outdoor clay target shooting. Bass Pro Shops and Cabela's Outdoor Fund is proud to continue investing in such a fun, safe, and effective program."
"We are grateful for the ongoing support the Outdoor Fund has given to the League." said John Nelson, President of the USA Clay Target League. "Such longstanding support from our sponsors has been key in the tremendous growth of the League, and allows the League to keep clay target shooting sports accessible for tens of thousands of student athletes every year."
With over 45,000 athletes expected to participate in 2022, the 501(c3) non-profit USA Clay Target League is the largest youth clay target shooting sport program in the world. The League offers trap, skeet, sporting clays, and 5-stand leagues to secondary and postsecondary schools across the country.
The USACTL 2021 Annual Impact Report can be viewed online by clicking this link.
About Bass Pro Shops
Bass Pro Shops is North America's premier outdoor and conservation company. Founded in 1972 when avid young angler Johnny Morris began selling tackle out of his father's liquor store in Springfield, Missouri, today the company provides customers with unmatched offerings spanning premier destination retail, outdoor equipment manufacturing, world-class resort destinations and more.
When you round up loose change at the register, you're helping us make real change for the outdoors. Together, we're uniting more than 200 million passionate customers in supporting key conservation programs across North America. By bringing together customers alongside dedicated team members, industry partners and leading conservation organizations, Bass Pro Shops and Cabela's are creating North America's largest conservation movement to collectively shape the future of the outdoors and all who love it for generations to come.
About the USA Clay Target League
The USA Clay Target League is the only 100% school-approved clay target shooting sport program in America and the League's co-ed and adaptive nature are key attractions to schools nationwide. The League is fully Title IX compliant with both male and female athletes competing on the same team. Additionally, it's an 'adaptive' sport, which allows students with physical disabilities to take part.
The League's priorities are safety, fun, and marksmanship – in that order.
The League is the safest sport in school, with no reported injuries since the inception of the League in 2008.
Each athlete must complete firearm safety certification before participation.
—
Bass Pro Shops and Cabela's Media Contact: press@basspro.com
USA Clay Target League Media Contact: Drew Tri | 320.291.9148 | dtri@usaclaytarget.com